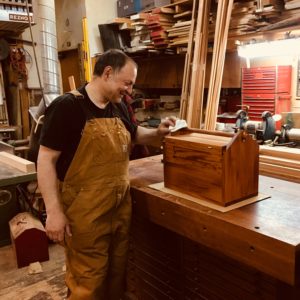 I have been working with passion for over 30 years and I am based in Lonsdale, North Vancouver.
Although I do all sorts of woodworking I always try to do the best job possible and use the proper materials. I do not make anything out of MDF or particle board, in fact I make most furniture out of only solid wood. I like to use out of the ordinary woods, they cost a bit more but most of the expense is usually labor so you may as well use deluxe material.
When making antique reproduction furniture I do whatever possible to make sure that the reproduction is a line copy of the original object using the same primary and secondary materials.  All my carving, fluting and reeding, and also a lot of the moldings (especially the scrolled crowns) are done by hand. All reproductions are sanded to be smooth as possible bringing out the grain and leaving a mirror surface on the wood.
All the hardware used is quality cast reproduction of hardware found on the originals. These are faithful reproductions of the treasures of the past.
I can pretty much do any custom woodworking job and although most of the things pictured here are quite expensive, I do all levels of work that is reasonable.